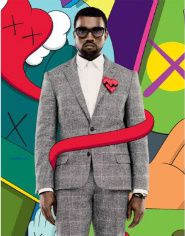 So if you know me at all you know I LOVE music-all types. I'm not stuck with only one genre as I listen to it all.
Anyway right now I'm really feeling Kanye West's 808's and Heartbreak which was released in Nov 2008. I've always been a fan of Mr West as I think his lyrics are well written and he has good beats. I was a little skeptical when I heard he was singing the entire album but it's actually pretty good. The cd does get sad at times due to the references he makes about his mother and her death, it also gets funny as I think he's talking about his ex-fiance Alexis in a couple tracks.
Either way it was definitely worth the buy!
♥ rai