March Favorites!
Hey Dolls,

I see other bloggers doing these monthly favorite post so I figured I would jump on the bandwagon, lol...so here it is guys my favorite beauty products for the month of March (wow I can't believe this month is over already-this year is flying by!).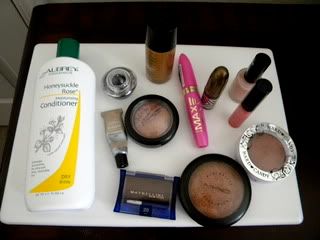 ♥Revlon Colorstay Foundation in 400 Caramel-I've been wearing this everyday since I bought it and I really do like it. If you missed my review on this product find it HERE
♥MAC Mineralize Skinfinish in Gold Deposit-I wear this everyday-loves it!
♥Loreal HIP Creamshadow paint in 807 Secretive-I ran out of UDPP so I picked this up (it was on sale) and have been using it as a base this month, it's ok-does the job for the most part
♥MAC Mineralize Blush in Earth to Earth (LE)-I bought this at my CCO and I love it, very happy I was able to pick this up
♥Wet-n-Wild Black Liner-Great dupe for MAC's BlackTrack and much cheaper! Worth a try
♥Maybelline Ultra Brow in Dark Brown
♥Hard Candy Blush Crush Baked Blush in Bombshell-I'll be doing a post with swatches soon
♥Rimmel Max Volume Lash in Blackest Black-I'm not really a huge mascara freak because my lashes are so crazy looking without falsies but I bought this because of the bright pink packaging, lol.
♥MAC Lipglass in Cha Cha (LE)
♥MAC Glazy lipstick in Sunsational (LE)
♥Rimmel 60 seconds Nail color in 200 Princess Pink-this is a pretty nude pink but I love it, it reminds me of a ballerina. I wear it most days during the winter. I would take a photo with it on but I just took off my pink & white's and my nails have those ugly little dents in them =/ eh...so I'll wait until they grow out to take some photos of my nails
♥Aubrey Organics Conditioner in Honeysuckle Rose-I love this conditioner, it's great and smells awesome. I bought it from whole foods for like $10 or $11 but well worth it!

What were your beauty products in March you were in ♥ with?

**Don't forget to follow me on
TWITTER
**