Review and Swatches: Wet-n-Wild Mega Last Lip Color
Hey Dolls,

Today I have a review along with some swatches for you lovelies! I'll be reviewing a drugstore brand-Wet-n-Wild. I remember WNW from when I was a little girl, lol. I wore their liners when I first started wearing makeup, I used to buy them because they were so cheap-I think like $0.99 then, lol. But anyway the brand sure has come a long way and I will say they've improved a lot.
So I was in the PX the other day and of course I had to browse the makeup and I wanted some lipstuff but wanted to try something new, well I stopped at the WNW section and since the price looked so nice I decided to try not just one but two of their lipcolors, lol. I would have tried more but they were actually out of a lot of the colors so I'll have to make a trip back there sometime this week.
Anyway on with the review...
Wet-n-Wild Mega Last Lip Color--I bought the colors 913C and 905D
Price: ~$2.99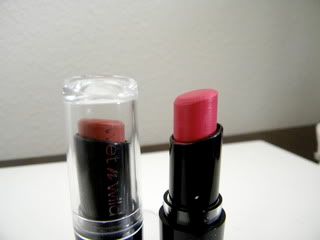 What the website says: This 4-hour, longwearing lip color leaves a semi-matte, crème finish in one stroke. Glides on easily with rich, velvety color that doesn't cake, feather, or bleed. Made with hydrating skin-care ingredients: Hyaluronic Microspheres provide extraordinary adhesion to lips, an exclusive polymer complex offers cushion-like feel and texture, and natural marine plant extracts Coenzyme Q10 and Vitamins A & E help smooth lips.
**Taken from http://wnwbeauty.com

What I say: This lipcolor is VERY pigmented, especially for the price! I was so surprised, pleasantly of course. Just as it says it leaves a semi-matte, cream finish. It did glide on very nicely and while I don't remember exactly how long I wore the color I don't remember either of them drying out too much or making my lips flakey. I wasn't a fan of the packaging, actually I thought it looked very cheap and child like almost and the plastic feels like it may break if not handled with care.

Pros:
♥Very pigmented
♥Long lasting color
♥No drying out
♥Great price for quality
♥Good color selection

Cons:
♥Cheap packaging
♥No testers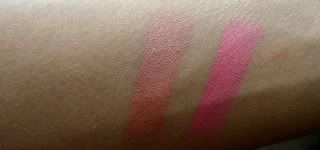 *without flash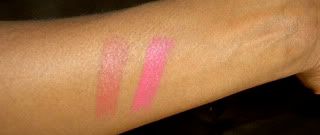 *with flash

Overall...
I was very pleased with my purchase of these lip colors. They were much more pigmented than I expected and very well worth the $2.99 I paid for it. My lips did not dry out from wearing them and the color stayed in tact the entire time I wore it-no fading etc (*I did moisturize before wearing). I think the packaging needs to be improved but I guess for the price what can you expect. In the end I would repurchase this and I do recommend it for anyone looking for a nicely priced drugstore lipstick that has great color payoff.

My Rating: 4.5/5 (not a full 5 because of the packaging)
Will I purchase again: Yes

Has anyone else tried this product, what did you think about it?

**Next up--reviews on Wet-n-Wild's silk finish blush and retractable lip color

*This is strictly my opinion of this product based on my personal experience with it. Different skin types will experience different outcomes-what works for me may not work for you.
**Don't forget to follow me on
Twitter