Hey Dolls,

I hope everyone had a fabulous weekend! I did ♥ I spent the weekend with my awesome family and some great friends. Friday we went to one of those restaurants where they cook the food in front of you-I think they are Hibachi or something right? I love going to those places, I think it's so cool how they do all the tricks and stuff with the knives and fire. Our guy sucked though, lol, he kept dropping stuff and was just a mess-he made up for it with his humor though. I had sushi of course-my fave roll-spicy tuna-YUM!
I know I'm late posting this but I wanted to share with you guys my outfit that I wore that night to dinner and my makeup that I wore. So I'll start with the outfit: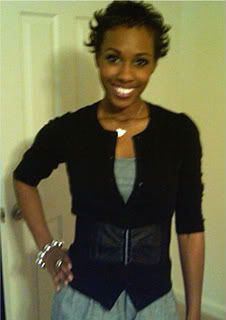 I absolutely love cardigans! Do you love them? I wear them a lot, especially in the spring. I have on a shorts romper that I got from Target, and the black cardigan I'm wearing is from Target too (I love that place!). The black tights are just random and the belt is from Forever 21. You can't see my shoes but I had on some black booties that kind of lace up in the front. I loved this outfit, it was so comfy and very chic =]

Ok now for my face...the reason we went to dinner was because it was my friend's birthday, well I was running late and since it wasn't MY birthday I didn't want to be super late and be rude to the birthday girl (even though my husband made us late anyway), lol. So my makeup wasn't too elaborate but I liked the look anyway.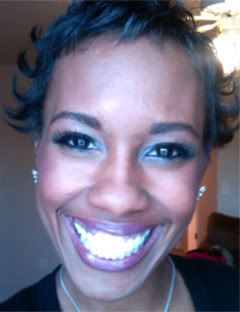 Funny how I was rushing but yet I still managed to get some pictures in there....lol
I just swept a silver shadow over my lid and put a little of a very lightly pigmented black over top to darken it up a little bit. Threw on some liner and lashes (they take any makeup look from drab to fab, lol) and that was it for my eyes. =]

How was your weekend? Did you do anything exciting?