Sarai's Favorite Things: Lippies Pt 2
Hey Dolls,

In my last post (if you missed part 1 click HERE), I showed you guys my favorite lipglosses, well today I'm going to show you guys my favorite lipsticks. YAY! As you saw with the glosses many of my colors I wear resemble each other, well not too much different with the lipsticks. I made a pact with myself to step out of my comfort zone so I will be doing just that next time I buy some makeup =]
Ok here are my fave lipsticks: (oh and btw I realize that I am not the best photographer out there, so yeah I'm working on that part too, lol)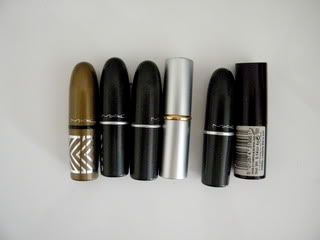 From L to R:
♥MAC Sunsational (LE)
♥MAC Fresh Brew
♥MAC Plumful
♥Mary Kay Whipped Berries
♥MAC-uh I actually have no clue what the color is because it rubbed off, all I know is it's a frost *sorry*
♥Rimmel Lipstick in 026 Vintage

Swatches: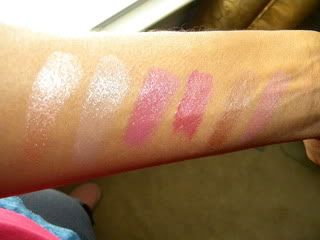 *with flash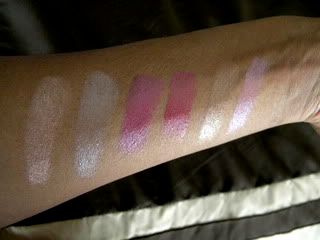 *without flash

What are you favorite lipsticks?