Swatches of Revlon Matte Venetian Blue
Hey Dolls,

I have more swatches for you today! I picked up the Revlon Matte eyeshadow the other day in Venetian Blue-it's sooo pretty and I've been looking at it for awhile. I don't have any bright blues (except for my 88 palette) and wanted to try some looks using a bright blue. Well I haven't done the look yet *lazy* but I will soon =]
So here is Venetian Blue


*w/o flash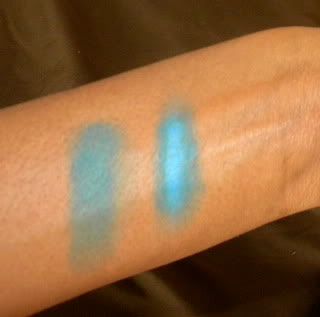 *with flash
The swatch on the left is without a base and on the right (as I'm sure you can tell, I totally didn't blend but you get the point) I did the swatch with a base using Milk from NYX. As you can see the color with Milk as a base is very bright and pretty. I can't wait to try a look with it.

What is your favorite blue to use and what do you pair it with?